CS Windshield Mods
Laminar Lip
Posted: Mon Mar 12, 2007 3:33 am by Tweeker43
i got a laminar lip over the holidays, but hadn't installed it until last night.
i went for a nice ride yesterday without the lip just to get a baseline for comparison. i'm 5'4", so the stock windscreen does a pretty good job until i reach interstate speeds. the recent addition of the airhawk seat has raised me a bit into the wind stream, but still tolerable. my hope is that the laminar lip adds a few more hours of comfort for those long interstate blasts.
without the lip the wind hits me at the lower edge of my face mask, and there is some wind around my shoulders and chest. there is a bit of wind noise and turbulence, but nothing too bad.
with the lip the wind hits me at the top of my face mask, but my chest and shoulders are fairly wind free. there is a nice big pocket of clean air, wider than my shoulders. noise is reduced a little bit; not as much as i'd hoped. i do wear ear plugs (and an ipod), so it's not a huge deal. the pocket seems to collapse a bit at interstate speeds (80mph indicated), but it's still an improvement. the windblast from oncoming traffic seems to be lessened somewhat as well.
installation was alright, although i didn't exactly follow instructions. if i waited for it to be 70 it would be june before i installed it. you do get a couple of opportunities to remove and replace the lip before it sets up. if it's cold when you install it, i'd suggest taking the windshield in the house and doing it there.
the appearance isn't too bad, not as obtrusive as i was expecting. i have the gs hand guards on my bike and they hit the lip well prior to full lock, so parking lot maneuvers are a little tougher.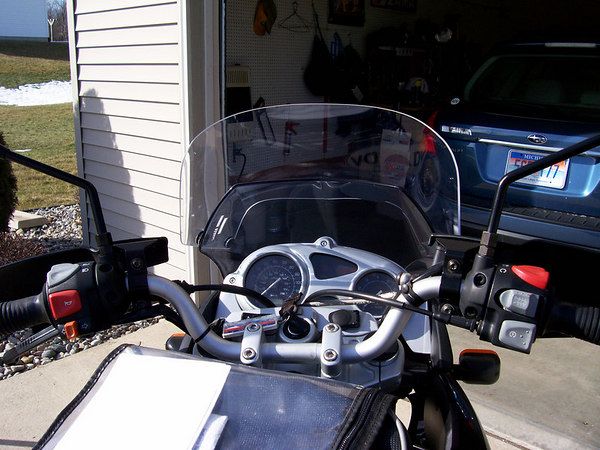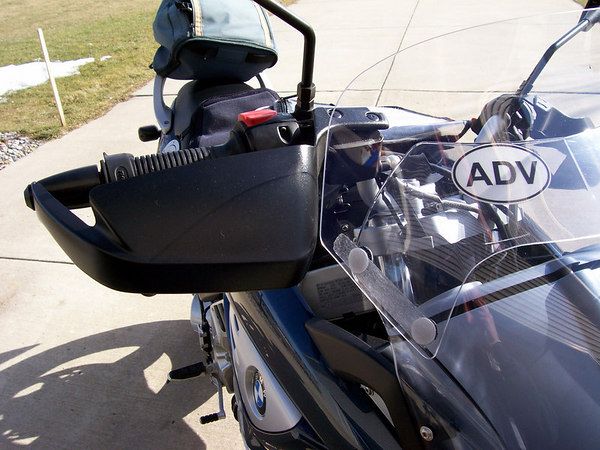 as i have pretty limited mileage with it, i'm going to say i like it. it does seem to open a nice pocket of air, although noise is marginally reduced and some turbulence exists at higher speeds.
Posted: Fri Apr 20, 2007 9:57 pm
one complaint - it was about 37 when i rode in this morning, and there is virtually no air flow to the chin vent on my helmet and i couldn't keep the face shield from fogging up.
my chest, shoulders and arms are nicely shielded from the wind.
Posted: Fri May 04, 2007 2:08 am
i got it from laminar lip online. it was $79.
http://www.laminarlip.com/f650cs.php
Painting the windshield
The CS windshield can be painted for a meaner look:
**Posted: Sat May 26, 2007 6:09 am Post subject: Windshield farkle gone bad. Need to paint. What color? **
A potential carbon fibering project went bad and now my windshield is scuffed up real bad. I need to sand and paint the windshield or get a new one.
What color should I paint? My CS is grey with a black seat. Thanks for the suggestions.
Posted: Sun May 27, 2007 4:35 am
I went with metallic black. It turned out quite nice if I say so myself.
Sanded it down with 220 grit: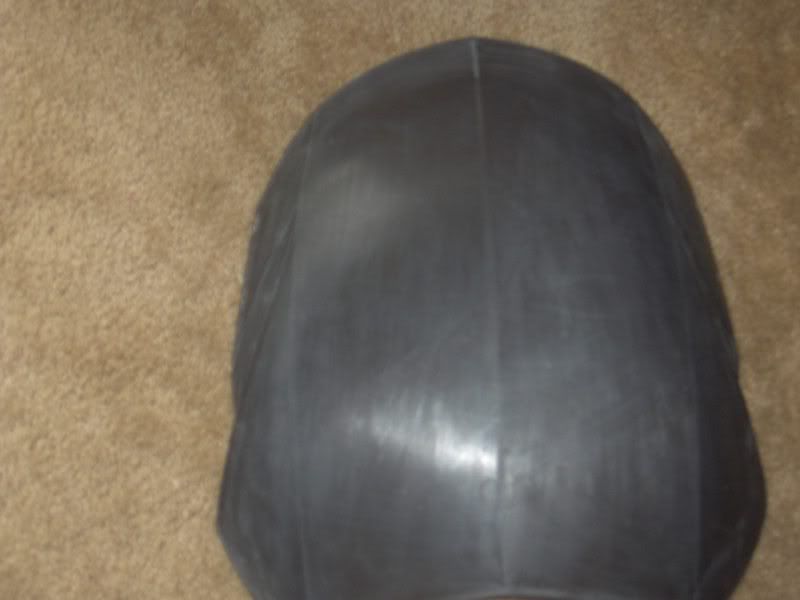 4 coats later: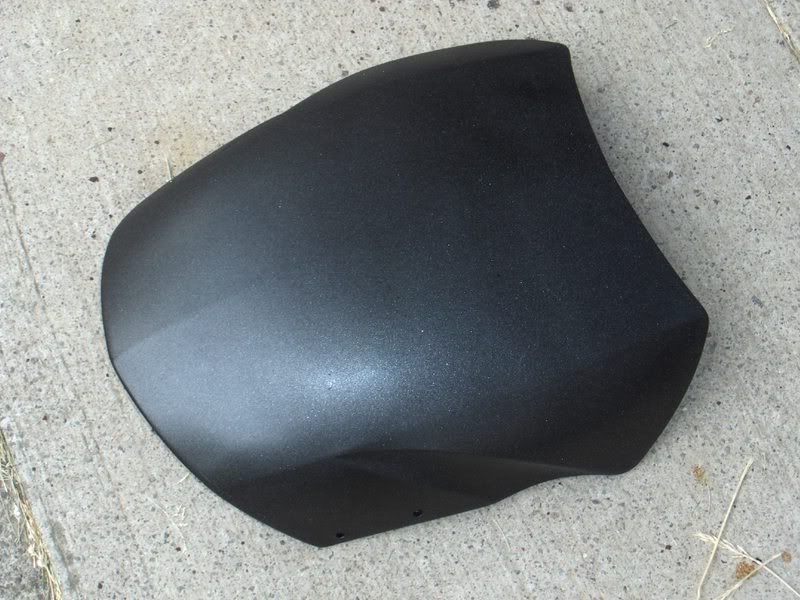 Mounted: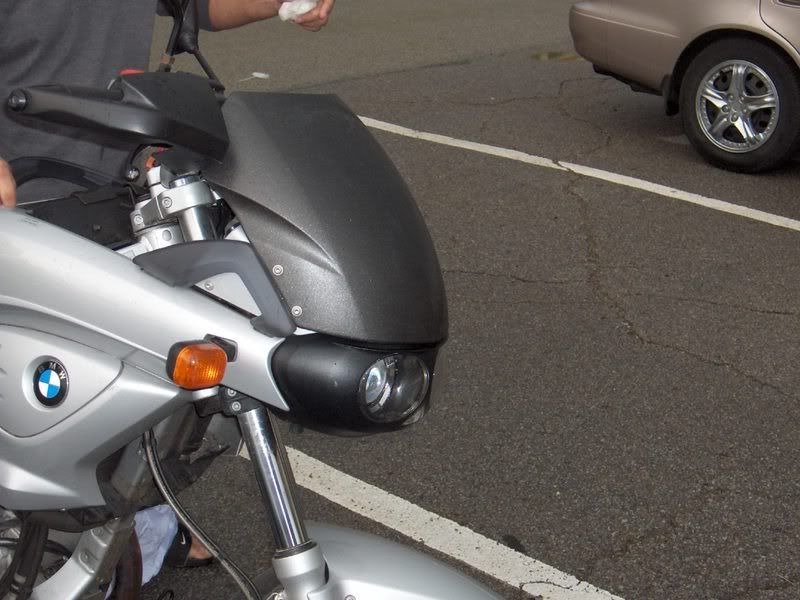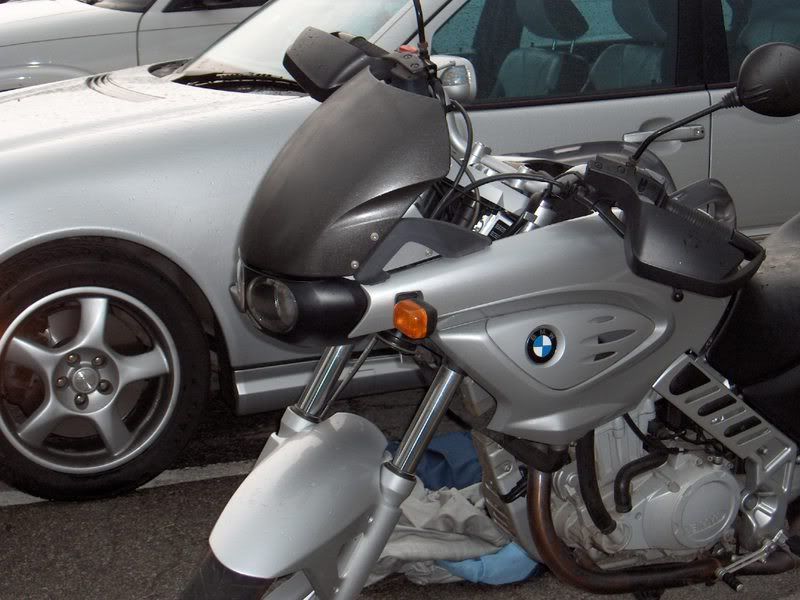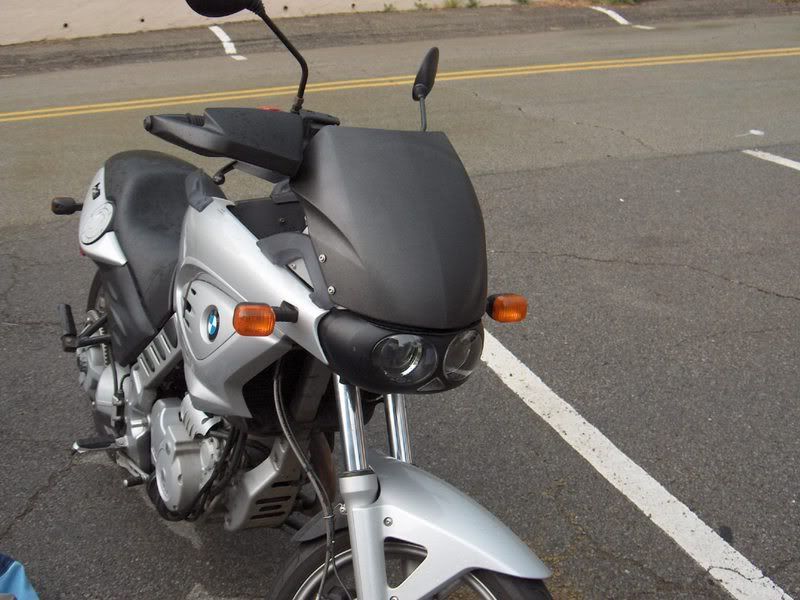 ---
Windshield Adjuster Brackets
VWBrian sells home made high quality windshield clamps to change the angle of the stock shield for personalized wind protection.
**Posted: Thu Jun 14, 2007 3:52 am Post subject: Windshield Adjuster brackets **
I am asking $20 with hardware shipped first class mail. Please email me at moc.eticxE|0791nairbwv#moc.eticxE|0791nairbwv to order your own set.
Use at your own risk. 30 day money back guarentee less $3 shipping.
The Windscreen does not need to be drilled to install the brackets. They fit the standard holes on the windscreen and on the bike. You can change it back to stock also. The hardware I am including allows for NO TOOL required for adjustment once the initial install is complete.
Warning, These brackets rub against the wind screen on the inside so they will leave marks on your windscreen. When Installing them make sure you put the rubber side of the washers to the screen. Also do not overtighten the front bolt with the nylock nut.
Thanks
Brian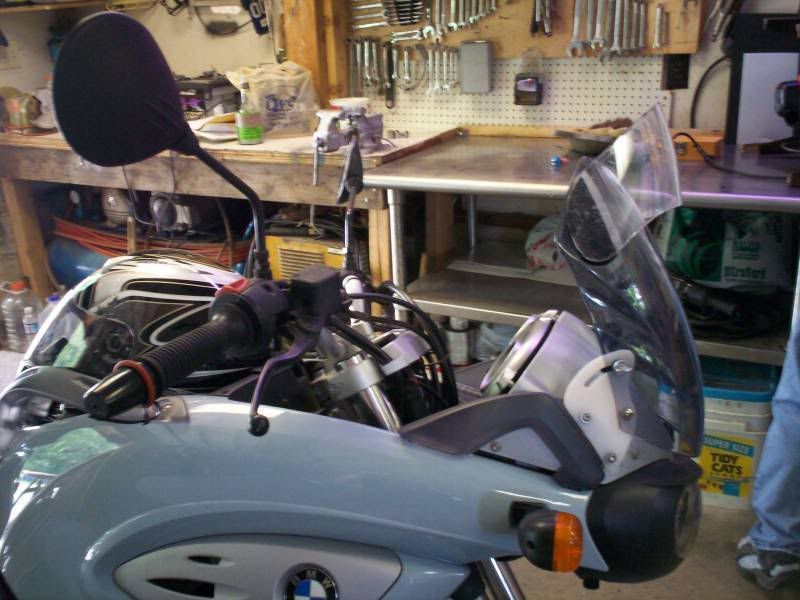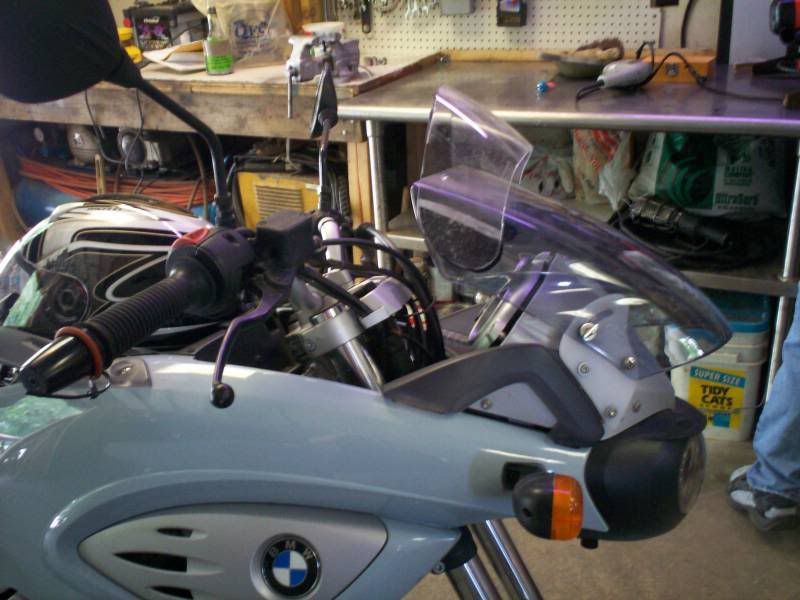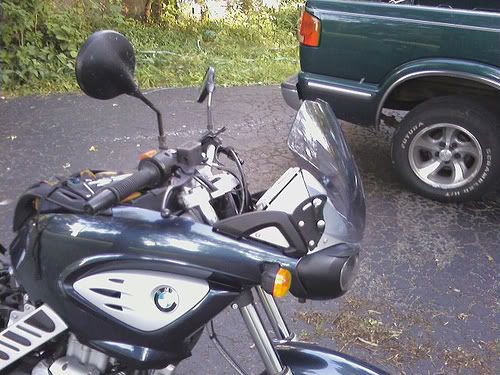 Posted: Fri Jun 22, 2007 9:04 am by BSK
2 black brackets made out of some plastic
4 rubber backed washers
2 bolts w nylock nuts
2 Thumb screws
2 Wing nuts
will raise the windshield approx. 2.5" from the bottom adjustable several degrees
riding reviews to follow over the next couple of days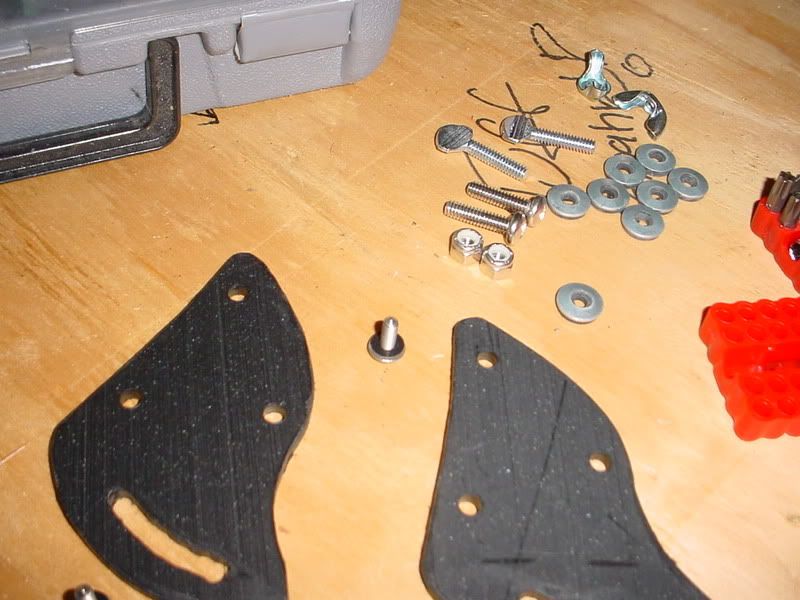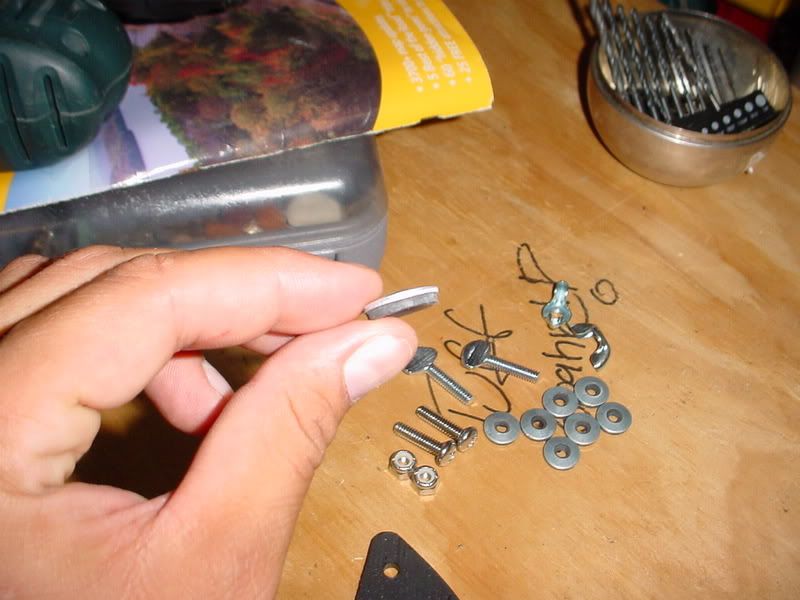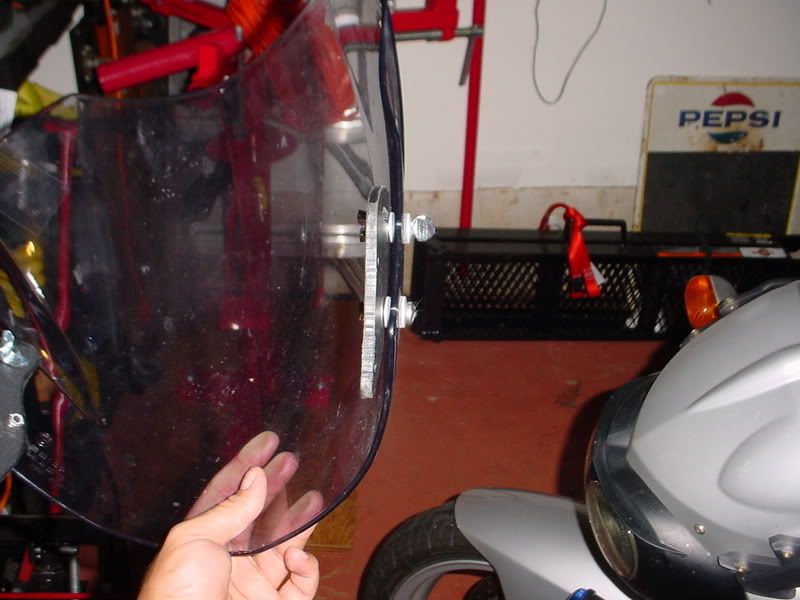 Do NOT over tighten the bolt with the nyloc nut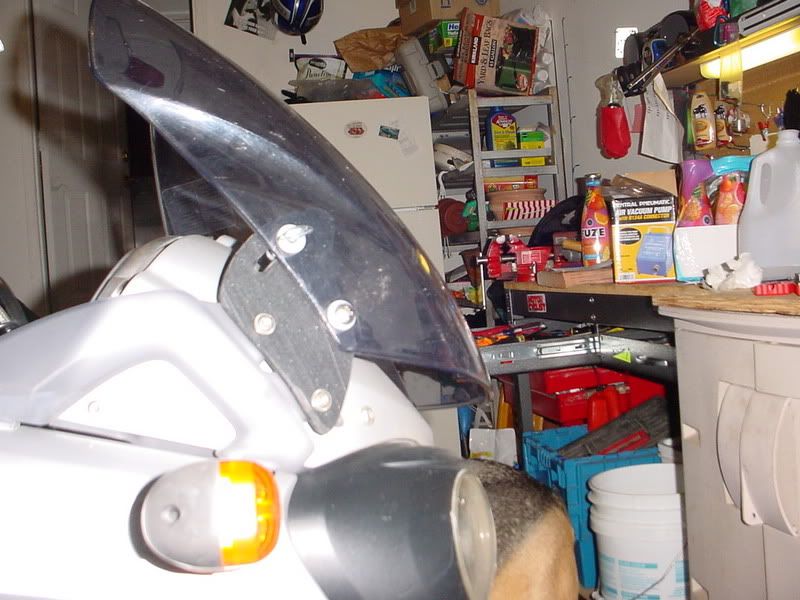 Adjust screen so while riding the wind hits your helmet just above the chin bar.
If you raise it to high you will get buffeting on the top of your helmet
Posted: Sat Jun 23, 2007 10:50 am by vwbrian
These Help alot with buffeting and make faster riding like 70-80mph much more barable. When I first got the CS I hated riding it on the freeway it felt like I was going to be ripped off the bike from all the wind. With the brackets I can adjust the windsheild and it makes it much better now Riding 160miles on the freeway is no problem. i use to avoid the freeway as much as possible. The adjustability allows for custom adjustments so if you get alot of buffeting you can raise or lower it to what works best for your height.
Thanks
Brian
Posted: Sun Jun 24, 2007 8:58 am by BSK
After a 200mile roadtrip I can say that the brackets made the ride a lot more nicer, I would even imagine that with an aftermarket windshield they would even work better. I do have mine adjusted nearly 3/4 of the travel way up and they work nice. worth the $$$$ so far..
lets just hope that they wont break due to the stress placed upon them
Posted: Thu Jul 05, 2007 6:59 pm by Semper Gumby
Hi All,
I installed Brian's windscreen bracket yesterday. Thanks BSK for the pictures, it helped with the installation.
So, I did a short 10 mile or so test ride after the installation. What a difference. I didn't know it was so easy to turn your head to check the next lane I was really pleased with the quality of the ride after raising the windscreen.
This morning, I set off on my 50 mile commute to work, most of which is interstate. I've decided that the bracket is just plain dangerous. I tend to drive fast and the wind buffeting my head kept my speed down. No more!!! Several times this morning I glanced at the speedometer and it was indicating 90 MPH. Whoa, back off!!! I think I'll send Brian the bill when I get one of those new outrageously expensive speeding fines here in Va.
But seriously, the brackets make a wonderful difference in the ride and stablility and comfort of my commute.
Best $22 I've spent. Thanks Brian!!
Cee Bailey's 7.5" Windscreen
Posted: Thur Feb 26, 2008 6:04 pm by Desertwolf
I purchased a 7.5" windscreen in dark gray (they come in stock size, 5.5", and 7.5" and colors of light green, light gray and dark gray).
The manufacture's website is:
http://www.ceebaileys.com/bmw/650csws.html
The 5.5" and 7.5" taller windshields use different trim configurations for the height of the windshield. The 5.5" version uses a concave top trim similar to the stock windshield, and measures 5.5" taller from the middle of the windshield. The 7.5" version uses convex trim for the top of the shield. Both shields are cut out on both sides to facilitate the mirrors in not hitting the windshield while turning the handlebars lock to lock. (for $50.00 more you can do a custom order without the cut outs). The width of the windshield remains about the same as the OEM, but widens a bit near the top to give the rider more torso coverage than the stock shield.
The windscreen is .187 thickness in all tints and manufactured aircraft quality acrylic.
I installed it and have done 50 miles on the freeway with a very noticeable difference. I can now situp and get significantly less buffering. I am 5' 7". I originall was going to order it without the factory mirror cut outs, but didn't. I am glad I didn't as the cut outs work nicely to allow me to lock the bars with the GS hand guards I have installed.
]]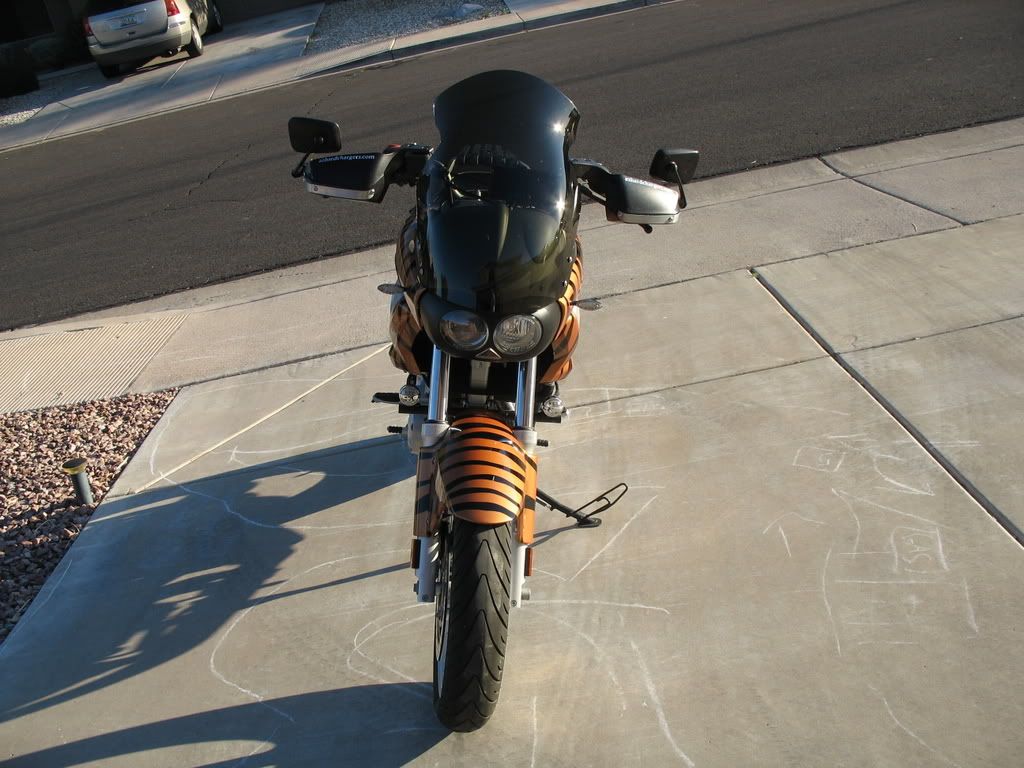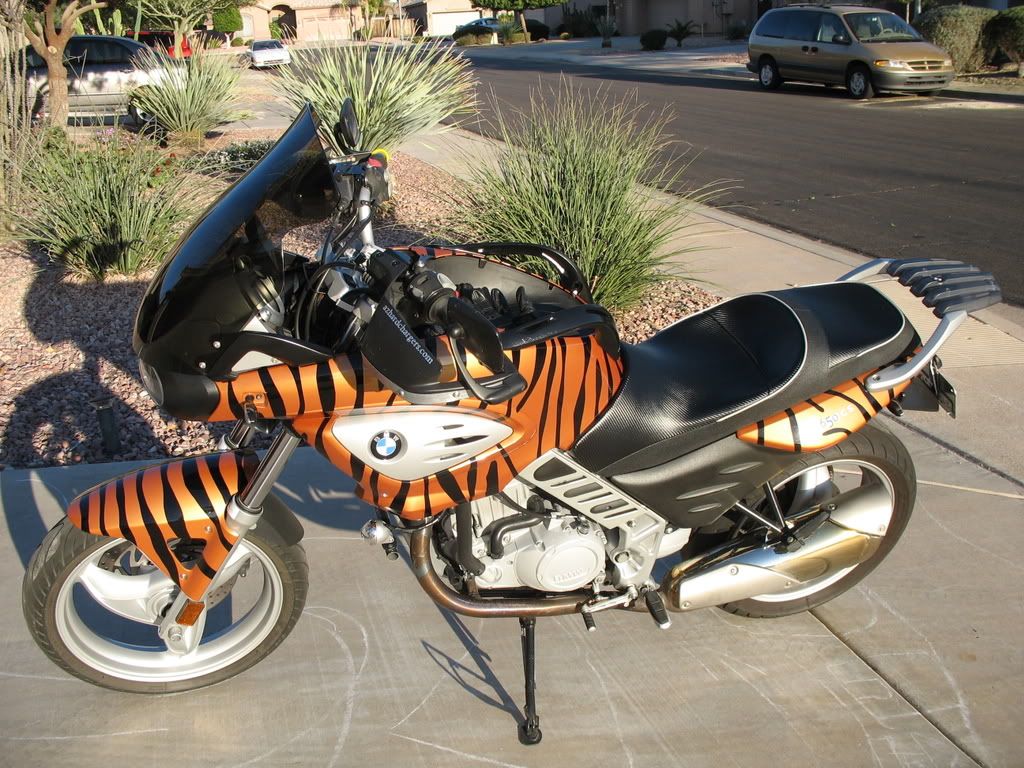 page revision: 18, last edited: 29 May 2018 18:03