Gear Shifter Lever Ball Bearing
Shifter ball joint
The gear shifter lever on the pre-2005 CS is held together and activated by a needlessly complicated ball bearing mechanism. Several people have reported that the welding on the ball bearing mechanism breaks. There are two proven solutions if it does break:
1. Weld the linkage
2. Replace with a later model linkage that is a bolt pattern
Solution # 1:
Posted: Thu Nov 01, 2007 10:26 am
Broke off the tip of number 12 today. Turns out where 12 fits into 15 is not a bolt, but just a recess where it fits snugly. Part is aluminum and cannot be welded at the neighborhood welder. New part is $47. Spliced an electrical wire and tied/bandaged it back in place while I pull my pants down for BMW.
Why am I so pissed? The damn thing is so needlessly complicated. Two ball bearing joints for one freaking gear lever??????? Its not like the damn Germans make their sh*t look good where you can forgive the convoluted design. No, leave that to the Italians.
Just venting…..
Posted: Mon Nov 12, 2007 11:01 am
I got it welded for 48 cents and all is well! Thanks for all your help and thanks Nicolas for the pictures.
Before: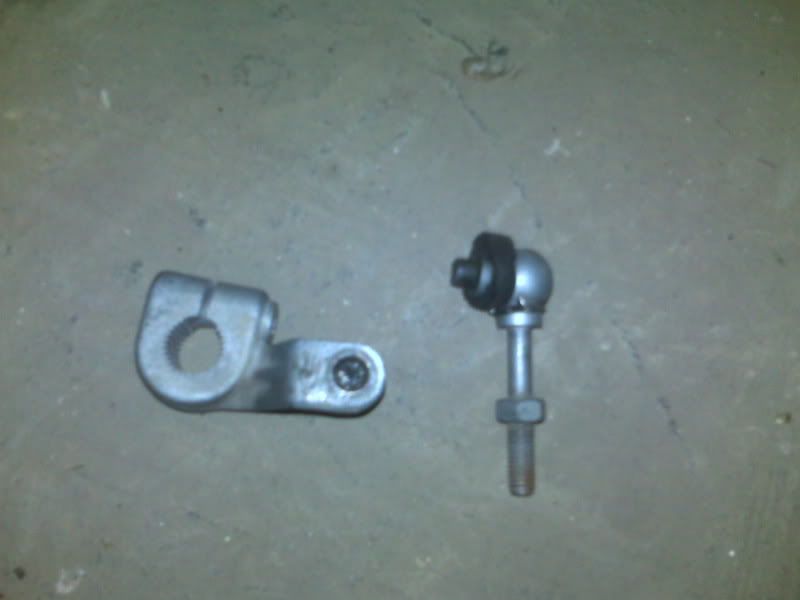 After:
Solution# 2:
Posted: Thu Nov 01, 2007 12:
43 pm
Courtesy Nicholas:
It is now.
Early this year I broke it (linkage 12/15) exactly at the same place like you, xxaarraa.
I replaced it with the later oem type which means item 15 is now a ball bolted on the gearbox primary lever (i.e. not welded anymore)
I thought initialy to repear it :
- drill the welded axle on the lever
- machine a new ball on a threaded (M5) rod
- link the new ball to the lever with a M5 nut.
If your local man can machine a ball for you, might be cheaper in India than in France…
In the end I decided it would cost me less to buy the new oem part, and there I discovered BMW changed the design to a bolt on ball…
in red : the early welded linkage
in green : the later bolted linkage
Other suggestions
dlearl: WTF? Is that not a ball/scoket linkage? If it is you could pick one up at any race shop
Flash: It is called a Heim Joint.
Pretty much any industrial supply house should have them for a couple of bucks. Look in the Yellow Pages for Industrial Supplies or Bearings and Seals.
Other Shifter problems
shifting 1st to neutral
The first time I had trouble finding gears (~1000 mi), the problem was due to the shift linkage being loose. It eventually stripped all of it's threads, and required a tow truck ride to the dealership.
The second time I had trouble finding gears (~2300 mi), I assumed it was the linkage again. A brief visit to the dealership revealed that the clutch cable needed tightening.
loose ball joint:
Bulletin No: 23 002 04 (025)
There's a service bulletin out for F650CS VIN ZH15001 through ZH15607.
The ball joint of the shift lever may come loose causing difficult shifting or none at all.
This is the part number of the modified lever if there is an issue: 23 41 7 677 932
page revision: 2, last edited: 20 Apr 2008 19:02